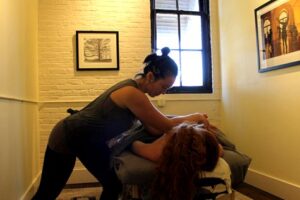 Yes, it's that time of year again and there is a strong possibility that this year will be one of the most successful years for a life changing fitness program. A large number of our clients feel that Covid kicked their fitness program to the curb and gave them very little motivation.
Many people may have never thought about incorporating massage into their weight loss and fitness program, but it's absolutely crucial to be structurally in balance when you're planning on losing weight and becoming fit.
1). Improves circulation and blood flow for a quick recovery
During the winter months, our blood vessels and arteries constrict and tighten in the cold weather, in turn limiting the flow of blood throughout the body, increasing blood pressure, and causing the heart to work harder to maintain circulation.  Studies show that deep tissue massage has a powerful effect in helping improve circulation and blood flow, bringing fresh, oxygenated blood to those constricted areas and decreasing blood pressure. Several other types of massage for manually assisting blood flow are Swedish, neuromuscular, Ashiatsu, and Lomi Lomi.
2). Enhances metabolism
Like going on a brisk walk, massage therapy enhances and balances our metabolism by stimulating the flow of oxygen through the blood, muscles and skin.  Circulation that regulates the endocrine system is also aided with any types of massage manually move the tissue such as myofascial release and structural integration. This is the fluid that moves toxins away from muscles and tissues, allowing the system to replenish that tissue with the nutrients that are diminished in the cold winter months. This can be especially advantageous for those who may suffer from swollen ankles and legs due to poor circulation. Examples of massage that can be effective with this goal would be myofascial release and structural integration.
3).  Mental wellness
Often during the winter many of us feel down or unmotivated. Our mood can be low from holiday stress and shortened days, bringing about Seasonal Affective Disorder or depression for some. Taking time off for the holidays should be a time of rest and relaxation, but so many of us are left dealing with added pressures that only exacerbate our anxieties.  With deep tissue massage, the increased blood flow allows for the release of endorphins and serotonin (the hormone that makes us feel happy), enhancing your body awareness and leaving you feeling relaxed and prepared for life's twists and turns. Swedish massage combined with appropriate deep tissue techniques would be highly beneficial.
4). Sports Massage for fitness and weight loss
 Many of us enter the new year with resolutions and intentions relating to our physical health and well-being.  The overindulgence and stress of the holidays is in the past, while a new year lies ahead of us. If you are committed to a new fitness goal or are just getting back into the gym, sports massage is a great option for those who are looking to stay the course.  Regular sports massage can deliver several benefits by boosting energy, range of athletic motion, and endurance.  When we have tense muscles (i.e. after strenuous exercise), blood flows through them less efficiently, making it more difficult for the body to get the oxygen and nutrients it needs. By lowering cortisol, a key stress hormone that directly affects metabolism, you're more likely to succeed. Choosing massage therapy as part of your plan can contribute to your commitment as it allows your body to burn at a faster rate. The elimination of toxins and movement of lactic acid in your muscles also keeps your joints working properly and helps prevent future sports injuries as well.
If you are looking for the most successful fitness plan in 2022, why not do it with the help of an experienced massage therapist. Our team at East Bridge Massage is focused on helping people with these goals, seven days a week.