The ancient modality of ashiatsu, originally performed by monks, has been revived in cities all across the world in recent years. This deep tissue foot massage is a truly unique experience, but does it fit your needs?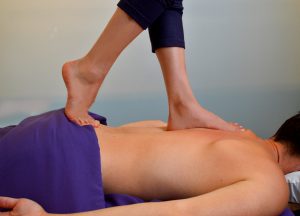 Ashiatsu is the ideal modality to meet the following needs:
Patients who are looking for a sports massage to relieve tension caused by cycling or running. These cardio activities utilize large muscles that are soothed most effectively by large points of pressure like the feet.
Those who have hip or joint pain. A foot can encompass a joint in a way a hand cannot always achieve. By working on the joint as its own inclusive mechanism, independent functioning is encouraged by increasing circulation to the area and resetting the cellular memory.
Patients who may crave deep pressure, but experience pain that is sharp and intense when being worked on by a singular point of pressure such as a hand or elbow. Foot massage can deliver deep tissue work in a more delicate fashion.
At East Bridge Massage in Portland, Oregon, we have massage therapy specialists available for appointments seven days a week. Book today to experience ashiatsu.