If you are coming in for your first massage, it is normal to have questions. As massage therapy experts, we have heard the most common inquiries asked by new patients. Below are our answers.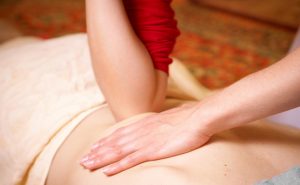 Will I have to undress?
Each patient undresses in accordance with their comfort level. While many forms of massage require the patient to be undressed, there is always a sheet covering the body and only areas being worked on need to be unclothed. If the therapist is only massaging your back, being clothed from the waist down is fine. For those that may be uncomfortable with any level of disrobing, our therapists are also trained in providing therapy through the clothing. Certain techniques such as Lomi Lomi or acupressure are typically performed with clothing on.
How do I get the kind of massage I want?
During your intake, your therapist will go over your medical history and your current concerns or goals. They will explain to you the modalities they are specialized in and how those could benefit your objectives. At East Bridge Massage, we offer an array of different techniques and our therapists are trained in determining the appropriate technique to optimize your experience. We are specialists in deep tissue massage but also incorporate ashiatsu, myofascial release, and many other modalities.
What areas will be massaged?
Full-body massages are offered at East Bridge Massage and elsewhere, but more often a massage therapist will focus on an area that is of concern to the patient due to injury or other discomfort. During your intake, your therapist will ask you what areas you are experiencing pain in and tailor your massage to best treat those issues.
What if my massage becomes painful or uncomfortable?
It is common during massage to come across areas that may be ticklish or painful. Every body is different. During your massage, it is encouraged that you express any feeling of discomfort to your therapist, whose job is to create the best customized experience for you as the patient.
How will I feel afterwards?
Often relief can be immediate. However, when receiving deep work, massage can be viewed similar to a workout session. You may feel sore the day of and relief will be felt the following day. Despite this discrepancy, all patients leave a massage feeling more relaxed and at ease.
Make your appointment today at East Bridge Massage, where our massage therapy experts are here to introduce you to massage therapy seven days a week.